Details
Details
10.25" BMW 3 Series 4 Series M3 F30 F31 F32 F33 F34 F36 F80 2011 - 2016 Android Multimedia Navigation System
ALL NEW with larger 10.25" touchscreen!
---
BMW iDrive
Control all factory radio function and Android menu screen from your iDrive

Factory steering wheel button controls are also supported
---
Upgrade your 6.5" factory screen to our larger 10.25" Android touch screen

---
(requires optional adapter)
Apple CarPlay
---
Works with Android Auto
With a simplified interface, large buttons, and powerful voice actions, Android Auto is designed to make it easier to use apps from your phone while you're on the road. Navigate with Google Maps, listen to playlists or podcasts from your favorite apps, send messages via voice, and more.
To use Android Auto, you'll need a phone running Android 5.0 or higher (Lollipop, Marshmallow or Nougat) and an active data connection.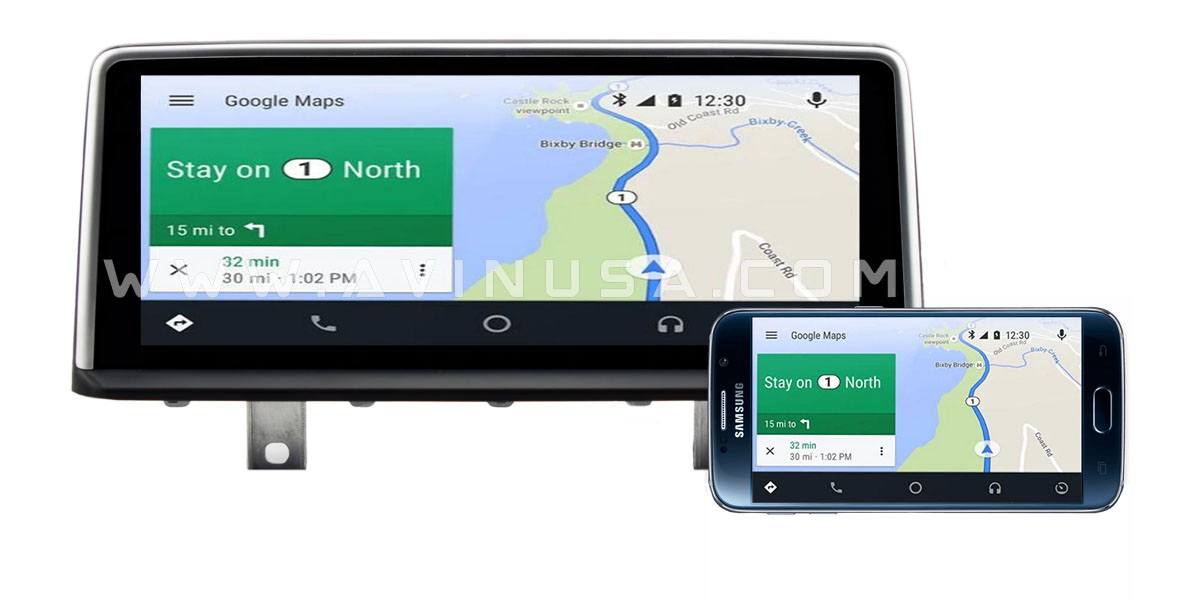 GPS Navigation
Supports offline GPS navigation and does not require an internet connection to work
Get Directions: Whether you have someone riding shotgun or not, there's no reason for you to pull double duty as both driver and navigator. Instead, offload direction duties to Google Maps' navigation feature. Tap the microphone icon on the Google Search bar and say "Navigate to [your destination]" for turn-by-turn dictation, "Directions to [your destination]" for written instructions, or "Map of [your location]" for a basic map of the area. Unfortunately, "Take me to [Funkytown]" is not a valid command. ///AVIN BMWF30A-1025 supports most popular Android GPS Navigation apps in both offline and online versions like Sygic, Waze, Google Maps, and many more...
---
Stream content or mirror your Apple iPhone, iPad, or iPod touch entire screen to the BMWF30A-1025 larger 10.25" display wirelessly
---

Bluetooth Handsfree with Audio streaming support
Supports Apple iPhones and Android phones
HANDS-FREE CALLING AND AUDIO STREAMING Stay safe and obey local hands-free laws with built-in Bluetooth® (HFP). Easily pair a Bluetooth® enabled phone to the ///AVIN headunit without having to go through complicated settings. When a registered Bluetooth® device is in close proximity to the receiver, the auto connection function automatically pairs the two units. If you have a compatible audio player device that also features built-in Bluetooth®, you have the ability to wirelessly stream (A2DP) and control audio (AVRCP) to the receiver.
With steering wheel button control you can play, skip tracks, or use controls on the large 10.25" touchscreen.
---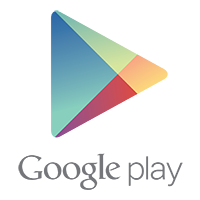 The Google Play store allows you to browse and download music, magazines, books, movies, television programs, and applications published through Google. With hundreds of thousands of apps, the Google Play store has the right ones for you. When you download apps, they're delivered directly to your device — instantly.
---
---
Steering Wheel Button Control
All AVIN headunit supports factory steering wheel buttons. Easily control your iTunes track on your iPhone, answer phone calls, or switch sources the power is at your fingers while your eyes are on the road.
---
DIY Install Guide
---
Click to download DIY Install Guide
---
Customer review in a 2013 BMW F30
---
Frequently Asked Questions
Is this compatible with my BMW 3 Series?
Yes, it is compatible with all 2011, 2012, 2013, 2014, 2015, 2016 model years
If your current monitor has the UI below your version is:
NBT
If your current monitor has the UI below your version is:
CIC
My BMW does not currently have GPS navigation can this still be installed?
YES, our monitor is compatible with your BMW and will add GPS navigation to your factory system.
My BMW has a 6.5" / 8.8" monitor will your larger 10.25" monitor fit in the factory location?
YES, it will fit perfectly without modifcation.
---
What is included in the box with the 10.25" monitor

---
VEHICLE COMPATIBILITY:
BMW F30 F31 F32 F33 F34 F36 F80 2011+ with 6.5" or 8.8" factory screen

FACTORY INTERGRATION:
All factory radio features remain
Connects to factory amp and radio tuner for OEM high quality sound
Sirius XM supported
DAB+ supported

FEATURES:
Android 4.4.4
1.6 Ghz Quad Core CPU
1 GB RAM Memory
16 GB Internal Storage
10.25" Wide HD capacitive multi touchscreen
MicroSD card support of upto 128GB
Screen Resolution 1280x480
Google Play App Store
iDrive control supported
Steering wheel button control
Parking Distant Control radar supported
Mirrorlink with Android phones for Android Auto* like features
Mirror your iPhone to the 10.25" HD screen via Airplay
Digital TV (optional)
Bluetooth Handsfree
Wifi built in
360 camera full view (optional)
Front DVR camera (optional)
Backup camera with trajectory lines supported
External Hard Drive supported
3G USB modem supported
Bluetooth OBD2 only supported via Mirrorlink or AirPlay
Includes GPS antenna and works both ONLINE and OFFLINE (no internet connection needed)
Supports Google Maps, WAZE, Sygic, iGO, HERE Maps, and many many more

Plug and Play connectors for easy install.
DIY install guides also available.
Note:
Touchscreen function is only supported when in Android mode

Audio from the Android side is outputted through the AUX channel
You may also be interested in the following product(s)