Radar Parking Distance Control (PDC) USA, Canada, Mexico, License Plate Frame Backup Camera with LED - BLACK
Fits license plates from USA, Canada, and Mexico
Now Only
$59.99
Regular Price
$69.99
Radar Parking Distance Control (PDC) USA License Plate Frame Backup Camera with LED - BLACK
In stock and shipping NOW!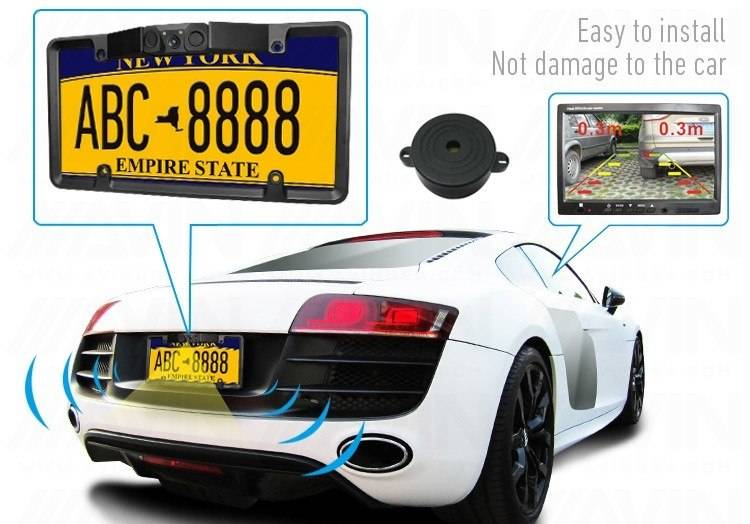 Features:
- Two ultrasonic sensors installed on left and right of the plate, one color camera installed in the middle of the plate
- The parking sensors aid detecting potential obstacles and enable accurate distance measurement to make reversing safe and convenient
- Detecting range:0.3 to 2M acoustic signal increases in frequency when obstacles move closer
- Reversing and parking made easy
- 170 degree wide angle rearview
- Easy installation under license plate
- Fits USA, Canada, Mexico license plates
- Nightvision
- Waterproof (IP68)
- Distance is measured in FEET (imperial units) next to the guidelines
NOTE: This product is only for USA, Canada, Mexico size license plate
Car Rearview Camera (Nightvision, Waterproof, USA License Plate): This reversing camera easily installs onto the back your vehicle to give you a crystal clear and wide-angle display of everything behind you. Protect yourself and your passengers from unwanted accidents with this handy accessory.
This ingenious Rearview Camera fits the USA license plate and provides everything you need to make backing up and reverse parking safe and easy. The camera and frame is a quick installation and easy fit under your current license plate, has 4 IR LEDs for nightvision capability, and is completely waterproof (IP68), so you can use it in all types of lighting and weather conditions and never have to remove it.
This USA License Plate Camera uses a RCA connection that connects to your car DVD player (or GPS navigator, LCD monitor, and so on) for a 170 degree wide angle view and 720x576 resolution display of everything behind you. It is powered by the tail light power source, so when the car is in reverse the rear view screen will automatically turn on. Also, when viewing your display monitor, a measurement like graphic will appear to help you estimate distance.
This Car Rearview Camera (Nightvision, Waterproof, USA License Plate) is compact and an easy DIY (do-it-yourself) installation accessory that makes parking and reversing much safer.
Product Specifications

Primary Function: License Plate Camera
Image Sensor: 1/4" APTIANA CCD MT9V136
Waterproof: Yes, IP68
Viewing Angle: 170°
TV System: PAL
Minimum Illumination: 0.1LUX
Night Vision: 4 IR
IR Lens: f = 5.9mm / F = 1.8
Night Vision Range: 3m
Pixels: 720x576
Resolution: 480TVL
Connection: RCA
Operating Temperature: -20 ~ +70
Power Supply: DC12V
Dimensions:
- Plate: 545 x 145 x 23mm (L x W x D)
- Length of AV Cable: ~6M

Manufacturer Notes

Works with most car multimedia systems and car DVD systems (and anything with a RCA video input).
Automatic monitor/camera feed on while reversing.
Simple to connect and install.