10.25" Multimedia Navigation System for BMW X1 Series E84 (2009 - 2015)
Now Only
$379.99
Regular Price
$549.99
Compatible with the following models:
BMW X1 Series E84 (2009 - 2015)
sDrive16i, sDrive18i, sDrive20i, xDrive25i, xDrive28i, xDrive35i
sDrive16d, sDrive18d, sDrive20d, sDrive20d EfficientDynamics, xDrive23d, xDrive25d
Perfect Integration




with Your Original

BMW

Infotainment System
AVIN's innovative system integrates with the factory radio. It retains all of the original factory features you enjoy including the ID controller, all steering wheel button controls, factory TPMS, the backup camera, parking radar sensors, factory 360 cameras, SiriusXM radio, DAB+ radio, and OEM microphone.
AVIN's exclusive AV8 custom UI and sophisticated design blend beautifully with your BMW's modern luxury interior. It is not only beautiful, but it also has the smarts to back it up too. It's packed with cutting edge technology and Google's latest Android OS.  It also supports connection with the latest iPhones and Android phones.
Car information is only available if your BMW has the original iDrive system.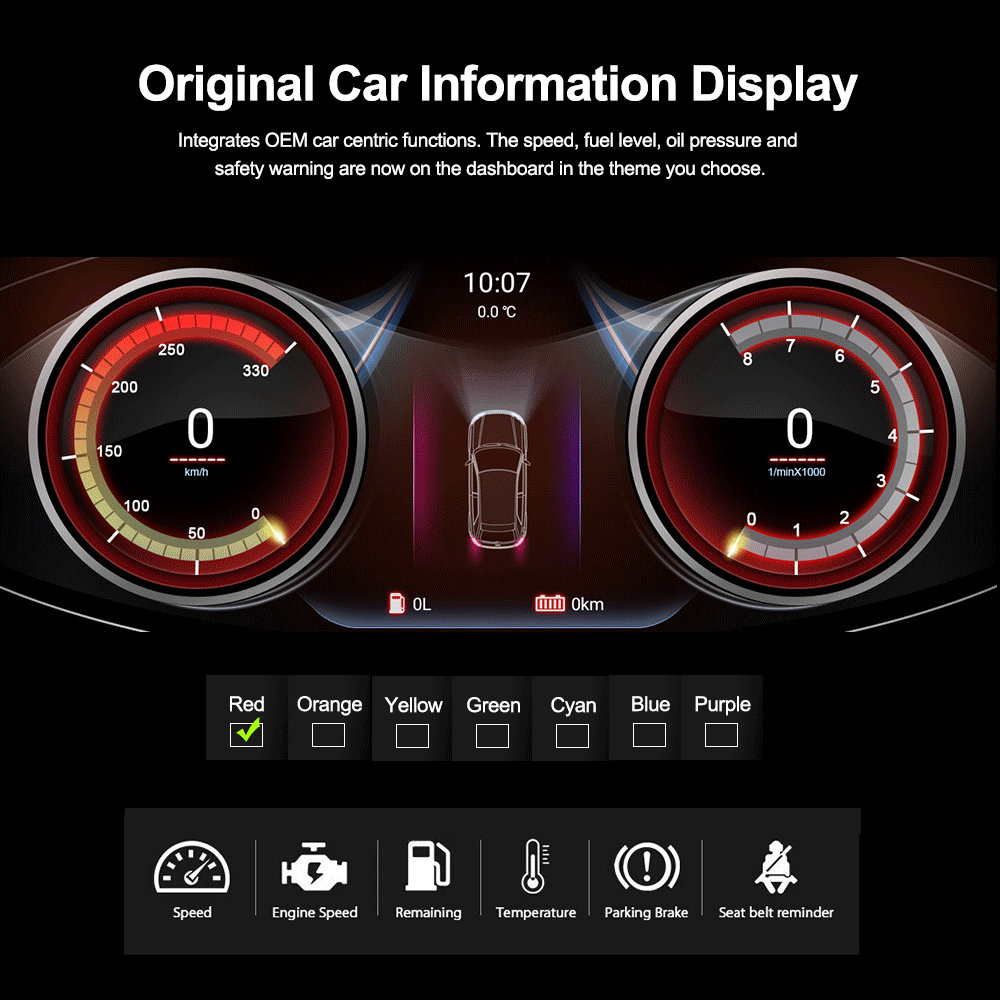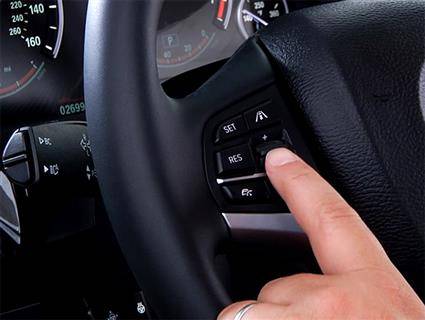 Steering Wheel Button Control
Compatible with all original steering wheel button controls.  Easily control music on your phone, answer calls, or switch sources. The power is at your fingers while your eyes are on the road.
Split-screen Multitasking
Split-screen mode allows running two different apps side by side.  You can now have Spotify open and Google Maps, navigating on the screen at the same time.  Android 10 also allows apps viewed in Picture-in-Picture mode. (Note: Not all apps support split-screen.  PIP feature only works with Google Maps & VLC.)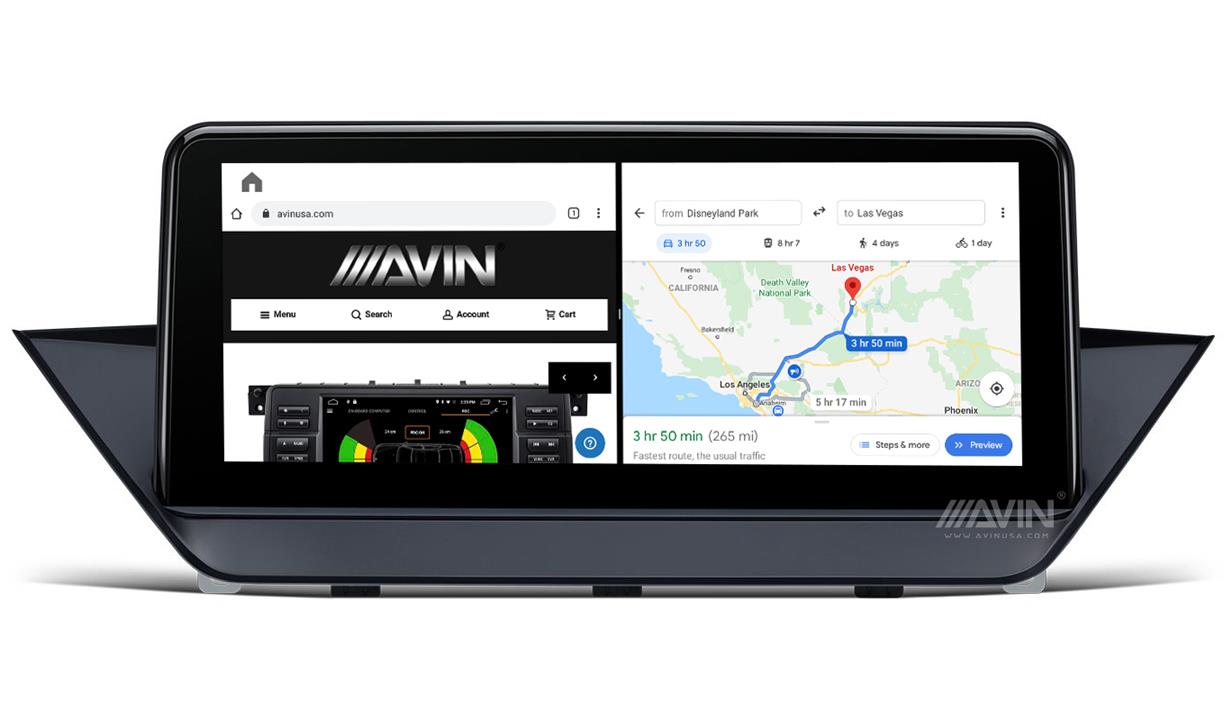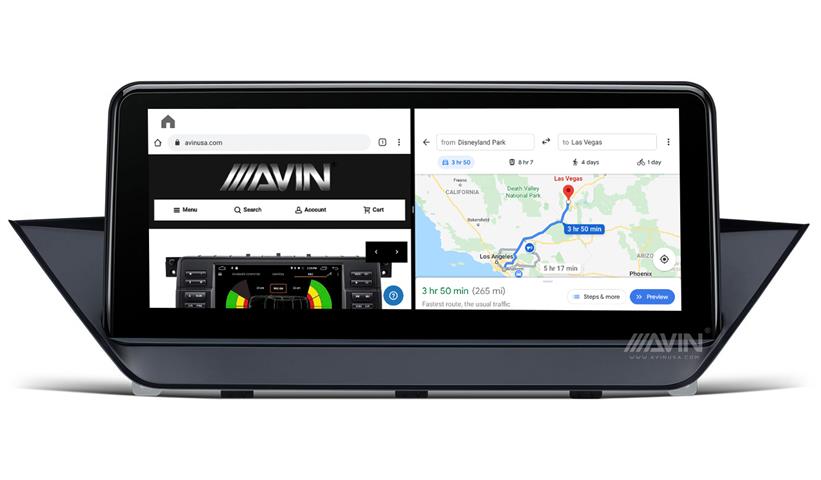 Screen Mirroring
You can mirror your iPhone wirelessly via AirPlay or Android smartphone via USB cable to access some of your favorite apps directly on your car's dashboard monitor.  With Android phones, it supports two-way control between your phone and the car's monitor.  Enjoying a full on-screen experience through the car's larger touchscreen and helping you stay focus on the road.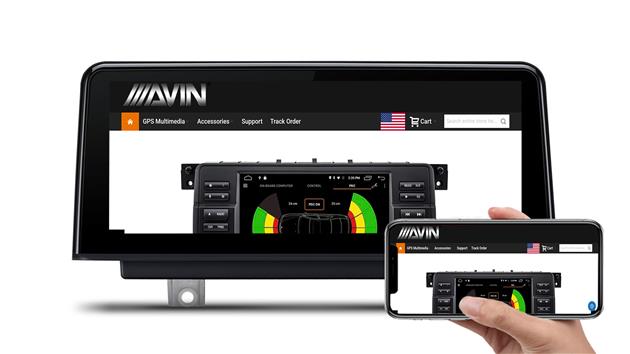 Bluetooth Handsfree Calling and Audio Music Streaming 
Supports Apple iPhones and Android phones
Stay safe and obey local hands-free laws with built-in Bluetooth® (HFP).  Easily pair a Bluetooth® enabled phone to the
With steering wheel button control you can play, skip tracks, or use controls on the large 8.8" touchscreen.
Note: Bluetooth OBD2 is not supported.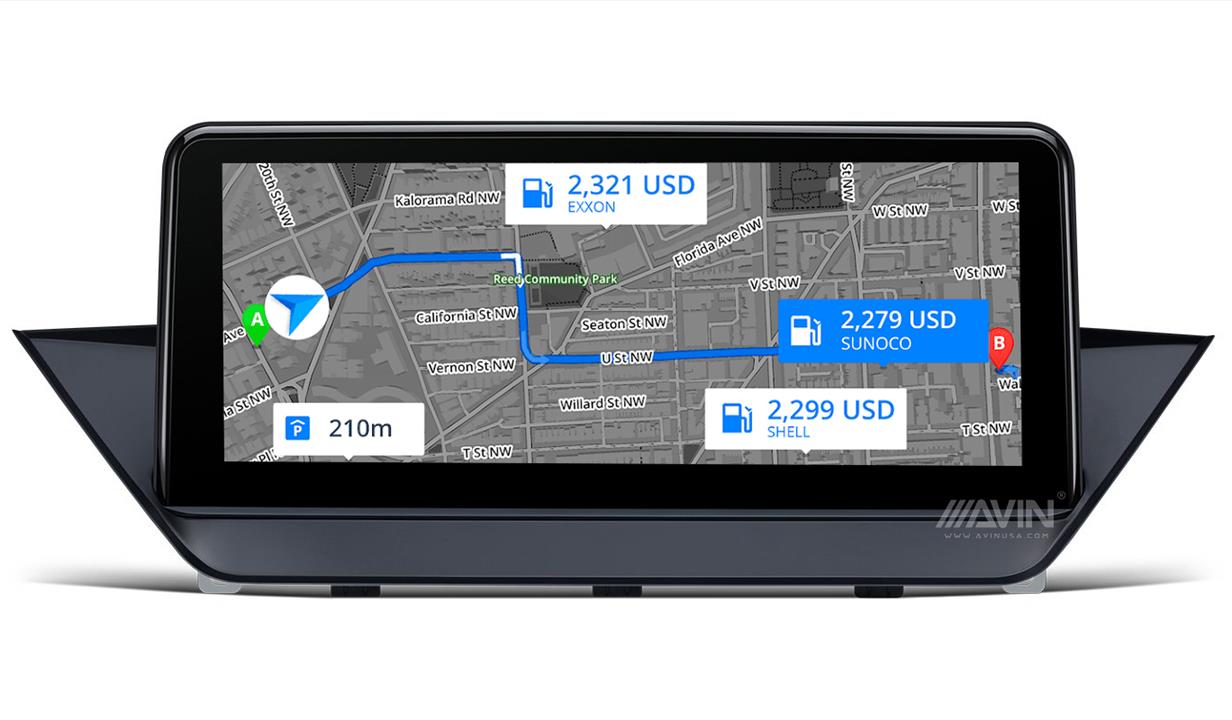 GPS Turn-by-Turn Navigation
Never get lost again! The AVIN unit supports both Online and Offline GPS Navigation with popular apps like Google Maps, WAZE, Sygic, HERE, iGO, and many more. NO internet required when using Offline GPS navigation as the map data read from your sdcard.
Cameras
Park Distance Control
The OEM factory cameras, parking radar sensors, and dynamic trajectory parking lines are all supported and displayed on the large touchscreen.  If you do not have the OEM camera you can add and install our optional aftermarket backup camera.  When you put your car into reverse the backup camera will automatically be displayed on the screen.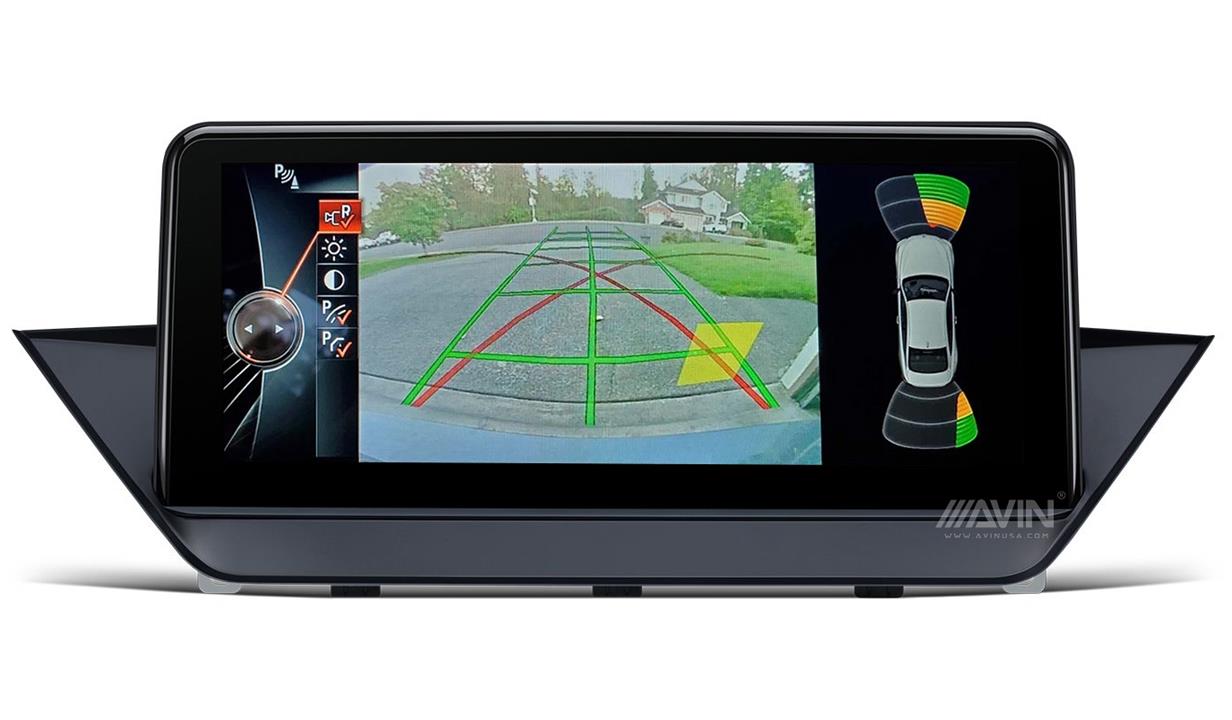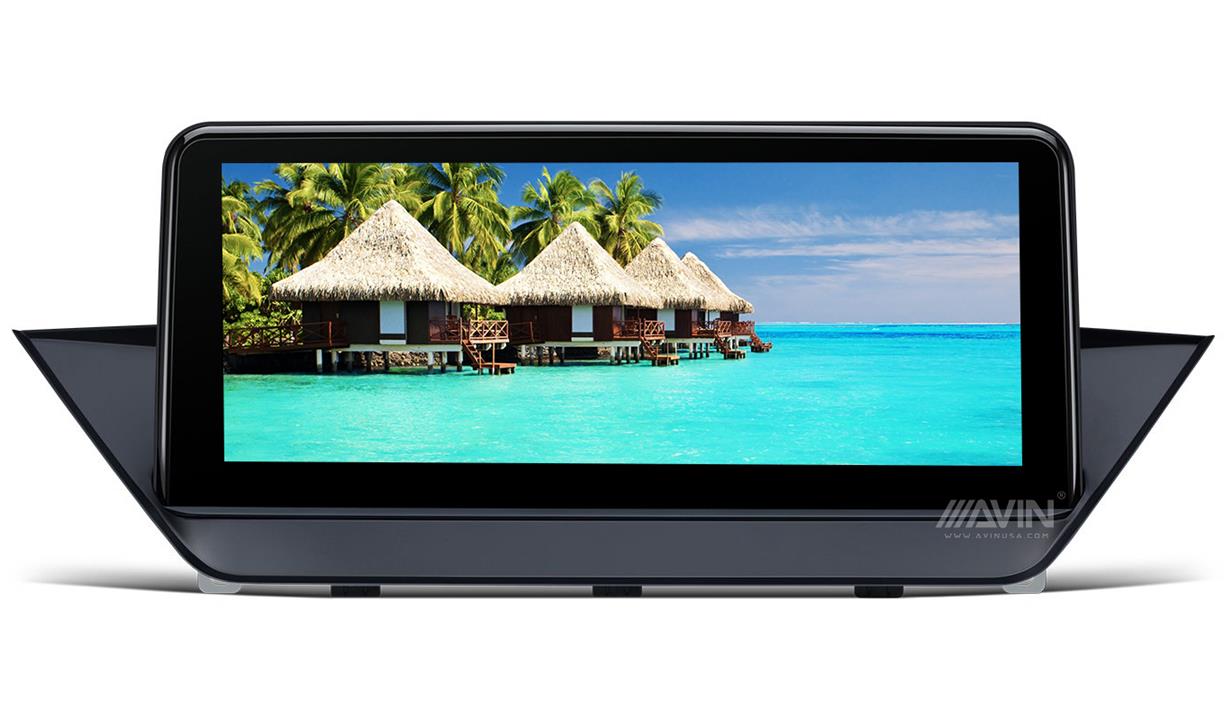 IPS Anti-Reflective Multi-Touch Screen
Two screen resolution option:  HD 1920x720P or 1280x480P 
The 10.25" IPS anti-glare touchscreen display will take your breath away with its brilliant, high-resolution image quality.  The HD display delivers outstanding clarity, contrast, and brightness.  Catch every single sharp, vivid, and vibrant picture from virtually any vantage point.
(Click the YouTube video PLAY button above)
(Click the YouTube video PLAY button above)
Android™ 10
Qualcomm Snapdragon 625 CPU
Snapdragon™ X9 4G LTE modem
8x ARM Cortex A53, Octa-core CPU, Adreno™ 506 GPU
4GB RAM memory
64GB Internal Storage
API Level 29
-OR-
Android™ 9.0 Pie
6-core CPU PX6 (RK3399) - Dual-core ARM Cortex-A72 (CPU 1.8Ghz) MPCore processor and Quad-core ARM Cortex-A53 (CPU 1.4Ghz) MPCore processor
2GB RAM memory
32GB Internal Storage
API Level 28
-OR-
Android™ 8.1 Oreo
6-core CPU PX6 (RK3399) - Dual-core ARM Cortex-A72 (CPU 1.8Ghz) MPCore processor and Quad-core ARM Cortex-A53 (CPU 1.4Ghz) MPCore processor
2GB RAM memory
32GB Internal Storage
API Level 27
Qualcomm Snapdragon:
Wi-Fi 2.4GHz and 5GHz 
The Qualcomm Snapdragon system supports both WiFi and 4G/3G cellular SIM card for internet access.   You will need to supply your own activated micro SIM card with a data plan.  Check the supported network bands with your wireless carrier before ordering.


PX6:
Wi-Fi 2.4GHz
The PX6 system connects to the internet via WIFI to your phone's WIFI hotspot.
Qualcomm Snapdragon
Supported Network BAND (Note: not all 4G bands are supported)
North America
GSM: 850 / 900 / 1900
EVDO: BC0
WCDMA: B2, B4, B5, B8
TD-SCDMA: B34, B39
FDD-LTE: B2, B4, B5, B7, B8
TDD-LTE: B38, B41
International  
GSM: 850 / 900 / 1800
EVDO: BC0
WCDMA: B1, B5, B8
TD-SCDMA: B34, B39
FDD-LTE: B1, B3, B5, B7, B8
TDD-LTE: B38, B39, B40, B41
Hands-Free Profile (HFP)
Bluetooth audio streaming
Bluetooth OBD2 is NOT supported
Android Audio Output

All audio from the Android monitor is outputted to the BMW factory AUX input. 
You MUST have a working AUX input for sound to work. 
1x Micro sdcard reader
2x USB Ports
Supports USB flash drives and micro sdcards up to 256GB
Capacitive Multi-touch Screen
Suitable for gestures such as flicking and zooming
Light-touch (Smartphone-like) operation
Touchscreen function is only supported when in Android mode
Video Playback format
MP4, AVI, FLV, MKV, 4K, 1080P, 720P
English, German, French, Norwegian-Bokmal, Spanish, Dutch, Italian, Romanian, Danish, Finnish, Swedish, Greek, Hebrew, Japanese, Korean, Polish, Russian, Arabic, Bulgarian, Catalan, Croatian, Hindi, Hungarian, Indonesian, Latvian, Lithuanian,  Portuguese, Serbian, Slovak, Slovenian, Tagalog, Thai, Turkish, Ukrainian, Czech, Vietnamese, Chinese,
Dual DVR Dashcam Records Front and Back View
(optional)
(Note: this is not compatible with the 2.4ghz wireless transmitter kit for the backup camera.)
Now you can record from both the front dashcam and our aftermarket backup camera at the same time. 
Whenever you commute to work, go on a road trip, or race on a race track, our HD Dashcam is your ideal companion.  Export recorded videos to use as evidence in case of a ticket or accident or just to share with your friends if you caught something interesting during your drive.  You can easily switch between the two camera views or watch both cameras at the same time during your drive.
The front DVR dash camera records your driving in high definition and saves the video to your sdcard.  The backup camera records video in standard definition.  You can record hours of driving as it is only limited by the size of your sdcard. The front DVR dash camera can be mounted to your front windshield and can be tilted for the perfect recording angle.  This is perfect for recording an accident scene as it will record the date and time as well as the exact location of where it happened.  The camera is connected by USB and the camera view displayed on your Android monitor's touchscreen.  
https://avinusa.com/dual-dvr-dashboard-camera-records-front-and-back-hd-video.html
Microphone
(optional)
The factory MIC will continue to work but only on the original iDrive menu.  The factory MIC will not work on the Android menu.  The new monitor has a built-in microphone that will only work on the Android menu.  You can add our optional external microphone but that will only work on the Android menu too.  
GPS Splitter Cable
(optional)
The engineers at BMW designed and placed the high-quality OEM GPS antenna in the optimal location for the best signal performance.
With our optional GPS splitter cable, you can continue to use your OEM GPS antenna with the factory navigation and share it with your new Android monitor. 
WiFi OBD2
(optional)
To read your cars OBD2 diagnostic and performance data you would need our optional WIFI OBD2 adapter.
Anti-glare Screen Protectors
(optional)
Protect your brand new monitor from scratches and block the sun's glare off the screen during the day with our optional 3-pack perfect fit anti-glare screen protectors.  These screen protectors are only available exclusively from AVINUSA.  They are custom cut to be a perfect fit for your new monitor.  https://avinusa.com/accessories/screen-protectors.html
DAB+ Radio USB Dongle 
(optional)
DAB+ digital radio gives you access to loads more stations compared with FM transmissions, meaning you can enjoy listening to more of the things you love whether it be for music, sport, news, or chat.  Take advantage of crystal clear radio listening with our DAB+ USB dongle and powered antenna so you can enjoy your favorite music the way it was meant to sound.  
Note: DAB+ radio is not available in North America.
https://avinusa.com/dab-radio-usb-dongle-with-powered-antenna.html