MOST Fiber Optic Bypass Loop Adapter Plug - For Mercedes BMW Porsche Audi VW
European vehicle manufacturers including Mercedes, BMW, Porsche, Audi, Land Rover, Jaguar and Volkswagen interconnect the audio/visual equipment within their vehicles using M.O.S.T (Media Orientated Systems Transport) fiber optic rings. This connector / adapter and fiber optic cable loop has been specifically designed to be fully compatible with these vehicles. We have been advised that other vehicle manufacturers also use the M.O.S.T ring system with connectors including Aston Martin, Honda, Toyota, Volvo, General Motors, Hyundai and Kia. If the connectors are the same as the connector listed here, we believe that this item will be equally compatible with these vehicles.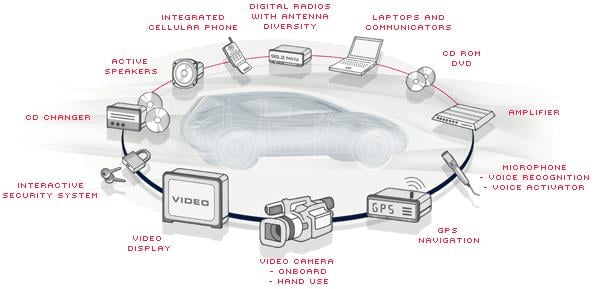 The modules connected on a vehicle M.O.S.T ring include: CD Changer, Video Display, GPS Navigation, Mobile Phone, Bluetooth, Voice Recognition, Amplifier and Digital/FM/AM Tuner.
If you wish to remove one of these modules from the fiber optic ring for repair or fault diagnosis you will require this FEMALE connector / adaptor and fiber optic bypass loop cable to close the M.O.S.T ring and maintain the integrity of the remaining modules on the ring. It can also be used to diagnose faults by systematically removing modules from the ring and inserting this adapter loop to bypass the module.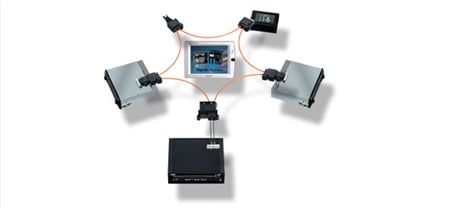 Vehicle M.O.S.T rings include a MALE connector at each module location which plugs into the back of the modules. This MALE connector has two fiber optic cables attached, a "data in" cable and a "data out" cable. By unplugging the MALE connector from any module on the ring, the ring continuity will be "broken" and the other modules on the ring will not operate correctly with the head unit.
The supplied FEMALE connector / adaptor and fiber optic loop cable connects to the existing MALE plug and joins the "data in" cable with the "data out" cable thus re-establishing the continuity of the M.O.S.T ring with the connected modules and the head unit. Each loop is fully tested within a M.O.S.T test rig prior to despatch, this provides both us and the customer with complete confidence in the product.
As an example of the use of this connector and loop cable, a recent purchaser of this item owned a 2003 Porsche 996 fitted with FM/AM Tuner, Amplifier, 6 CD changer, SATNAV and telephone. These were all connected via a M.O.S.T fiber optic ring and connectors but there was a fault somewhere on the ring and none of the modules were working. He used this connector and loop cable to establish that the telephone module was faulty. Fitting the connector and loop cable restored the continuity of the M.O.S.T ring and also restored the function of the Tuner, Amplifier, CD Changer and SATNAV in his vehicle. Porsche quoted over £1000 ($1500) to supply and fit a new telephone module. As an alternative, the customer retained the connector /adapter in place and fitted a Bluetooth after-market module to restore the telephone capability within his vehicle, all at a fraction of the Porsche replacement cost.
BMW Owners Only
Depending on the model, year and specification of your BMW you may also require our fiber optic MALE plug to enable bypass of all the MOST modules in your vehicle. Some BMW models are fitted with a twin fiber optic terminal block (as shown in the photo below) which needs to be inserted into our MALE plug before our loop in this product page can be fitted. We can supply our MALE plug optionally too please contact us for detail.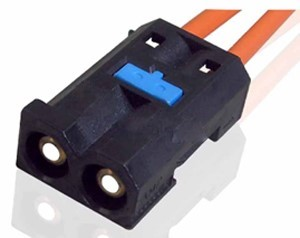 Mercedes Owners Only
Early Mercedes vehicles fitted with a fiber optic ring employed the D2B system which used a different type of plug system. Between 2004 and late 2006 Mercedes transferred to the standard M.O.S.T fiber optic ring system. So if your Mercedes is a pre-2007 model, please check if your Mercedes is fitted with D2B or MOST connectors prior to ordering. If you do have the earlier Mercedes D2B system fitted in your vehicle, we can supply a D2B compatible bypass connector, please contact us for further details.
Plug Compatibility
We have undertaken considerable research regarding the fibre optic plugs, sockets, in-line connectors and fibre optic cables fitted by automotive Manufacturers. The major manufactures all signed up to the M.O.S.T standard fibre optic system and this FEMALE plug with fibre optic loop has been designed to be fully compatible with the M.O.S.T standard. However, some manufacturers have modified the standard plugs to incorporate copper cables for power, earth, speaker cables, etc. Please check the plugs in your vehicle before ordering.
If your vehicle is fitted with a fibre optic plug which does not match the description, technical drawing links and photos in this product page we can provide our M.O.S.T adapter and our MALE plug for an additional charge. This involves releasing the two fibre optic cables from the vehicle's plug (they are normally clipped in). The cables can then be inserted into our adapter (twin fibre optic terminal block) before being fitted into our standard M.O.S.T MALE plug, which then enables our loop and FEMALE plug to be fitted.