Details
Details
Mercedes-Benz E-Class CLS Avant-2 Full Android GPS Navigation System

Harmon Kardon factory MOST Fiber Optic Amp now supported! (with our optional adapter)
FREE Mercedes Fiber Optic Amp Bypass Extension Cable kit with order ($49.99 value)
We are now the proud sponsor of benzworld.org

For the following models:
Mercedes-Benz E-Class W211 (2002-2009)
Mercedes-Benz E55 AMG (2003-2006)
Mercedes-Benz E63 AMG (2007-2009)
Mercedes-Benz CLS W219 (2004-2011)

Android Auto*
With the Avant-2 mirrorlink function and the AutoMate app installed on your Android phone you can have Android Auto like features now.
---
DIY_AVIN_AVANT-2_MERCEDES-BENZ_E-CLASS_W211__2002-2008__A2MBW211_ENGLISH.PDF
DIY_AVIN_AVANT-2_MERCEDES-BENZ_E-KLASSE_W211__2002-2008__A2MBW211_DEUTSCH.PDF
INSTALL_GUIDE_FOR_THE_AVIN_AVANT_2_HEADUNIT_IN_MERCEDES_E-CLASS_W211_WITH_PHOTOS.PDF
---
FULL CANBUS INTEGRATION
Steering Wheel Remote Control Integration
Multifunctional Display (MFD+) Integration
Display radio and track information in the MFD
---
WILL THIS WORK IN MY MERCEDES-BENZ E-CLASS OR CLS-CLASS?

The AVIN Avant-2 A2-MBW211 is designed to fit Mercedes-Benz E-Class (W211) vehicles produced between 2002 and 2009 and Mercedes-Benz CLS-Class (W219) vehicles produced between 2004 and 2011. It will fit any variant of these vehicles as the dashboard shape/size is the same, but the method of installation will differ depending on which original head unit you have installed.

---
CARS WITH ORIGINAL AUDIO 20 HEAD UNIT WITH SINGLE CD SLOT:
If you have the Audio 20 stereo with CD slot as shown above in your Mercedes-Benz E-Class / CLS-Class then the AVIN Avant-2 A2-MBW211 will be a plug-and-play replacement. You will

not

need our fiber optic amp bypass extension cable.
---
CARS WITH ORIGINAL COMAND NAVIGATION / APS 50 / APS 20 TAPE PLAYER:
If you have any of the above 3 head units (COMAND / APS 50 / APS 20) then your speaker system will be powered by a fibre optic (MOST) amplifier in the rear of the vehicle. Head units which are run by MOST will have a pair of orange plastic fibre-optic cables on the rear and no speaker outputs. The majority of cables such as speaker wires, power wires and the radio antenna are found in the rear of the car at the original amplifier. This means that to integrate the A2-MBW211 with the car you must run our optional
Mercedes Fiber Optic Amp Bypass Extension Cable
kit to connect the Avant2 speaker outputs directly to the speaker wire harness in the trunk, bypassing the oem fiber optic amp. This works fine with the base stereo system as it only has 4 channels. Using the fiber optic bypass cables allows you to connect the sound output from the Avant-2 to the front left, front right, rear left, and rear right channels. The upgraded audio options in these cars however have many more channels and if you want to use all of them it will require the installation of an aftermarket amp, in this situation its a good idea to employ the help of a good car audio installer.
NOTE: If you would like to continue to use your factory fiber optic amplifier and have sound from all speakers, inlcuding center channel, and subwoofer you will need our MOST Fiber Optic Amp Interface for W211 E-Class.
---
According to the Google Play App store there are over 1,000,000 reason to choose the AVIN Avant-2.
Torque OBD2
Description
See what your car is doing in realtime, get OBD fault codes, car performance, sensor data and more!
Torque is a vehicle / car performance / diagnostics tool and scanner that uses an OBD II Bluetooth adapter to connect to your OBD2 engine management / ECU
Layout your own dashboard with the widgets / gauges you want!
It can use the GPS to provide tracker logs with OBD engine logging so you can see what you were doing at any point in time
It can also show and reset a DTC / CEL / fault code like a scantool. Helps you fix your car and helps keep repair costs down!
Torque also features:
* Dyno / Dynomometer and Horsepower/HP & Torque
* Can read Transmission Temperatures (vehicle dependant)
* 0-60 speed timings - more accurate than just using plain old GPS - see how fast your car is (or truck )
* CO2 emissions readout
* Customisable dashboard & profiles
* Video your journey using the Track Recorder plugin with onscreen OBDII data overlay - a black box for your car/truck!
* Automatically send GPS tagged tweets directly to twitter (for example if you are going on a road trip)
* Massive fault code database for lookup of fault codes from different manufacturers
* Theme support (choose from different themes to change the look of your dashboard)
* Send logging information to web or email CSV/KML for analysis via excel / openoffice reader
* Heads up display / HUD mode for night time driving
* Compass (GPS Based) that won't suffer magnetic interference
* GPS Speedometer/Tracking and realtime web upload capability - see what you were doing and your engine, at a point in time
* Turbo boost feature for vehicles that support MAP and MAF sensors (VW & Golf / Audi / Seat etc supported)
* Alarms and warnings (for example if your coolant temperature goes over 120C whilst driving) with voice/speech overlay
* Graph data
* MPG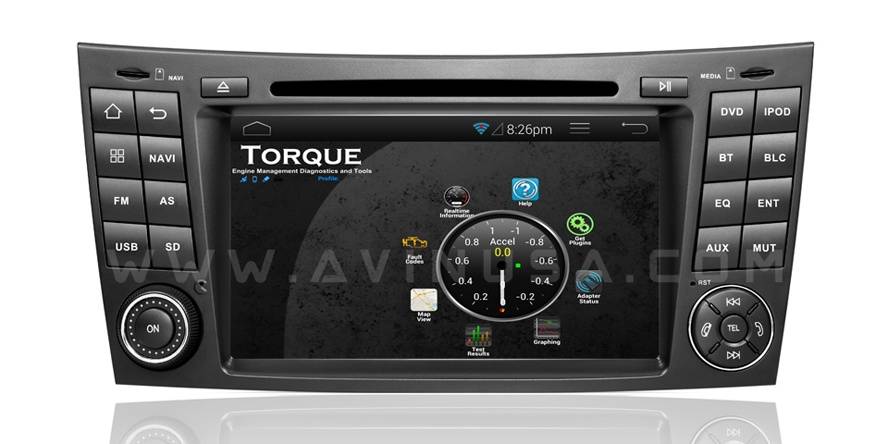 ---

The AVIN Avant-2 unit supports connection with the Valentine One Radar detector and displays the radar information on the AVIN touchscreen. Now you can install the Valentine One radar in places where potential thieves can not see it and still have access to the radar indicators and bogey count. You would need the V1Connection Bluetooth module and then pair it with the AVIN unit. We tested it with the YaV1 app available for FREE download from the Google Play store and it works great.
---
You may also be interested in the following product(s)