Details
Details
Supports all BMW 3 Series - E46 - Model Years 1998-2006
Harmon Kardon sound system supported
Model: PX5-BE46
Note: This is not the Avant-3
---
Works with Android Auto*
With a simplified interface, large buttons, and powerful voice actions, Android Auto is designed to make it easier to use apps from your phone while you're on the road. Navigate with Google Maps, listen to playlists or podcasts from your favorite apps, send messages via voice, and more.
To use Android Auto, you'll need a phone running Android 5.0 or higher (Lollipop, Marshmallow or Nougat) and an active data connection.
GPS Navigation
Supports offline GPS navigation and does not require an internet connection to work
Get Directions: Whether you have someone riding shotgun or not, there's no reason for you to pull double duty as both driver and navigator. Instead, offload direction duties to Google Maps' navigation feature. Tap the microphone icon on the Google Search bar and say "Navigate to [your destination]" for turn-by-turn dictation, "Directions to [your destination]" for written instructions, or "Map of [your location]" for a basic map of the area. Unfortunately, "Take me to [Funkytown]" is not a valid command. ///AVIN AC9-BE46 supports most popular Android GPS Navigation apps in both offline and online versions like Sygic, Waze, Google Maps, and many more...
---
Stream content or mirror your Apple iPhone, iPad, or iPod touch entire screen to the AC9-BE46 larger 9" display wirelessly
---

Bluetooth Handsfree with ID3 Audio streaming support
Supports Apple iPhones and Android phones
HANDS-FREE CALLING AND AUDIO STREAMING Stay safe and obey local hands-free laws with built-in Bluetooth® (HFP). Easily pair a Bluetooth® enabled phone to the ///AVIN headunit without having to go through complicated settings. When a registered Bluetooth® device is in close proximity to the receiver, the auto connection function automatically pairs the two units. If you have a compatible audio player device that also features built-in Bluetooth®, you have the ability to wirelessly stream (A2DP) and control audio (AVRCP) to the receiver.
With steering wheel button control and ID3 support you can play, skip tracks, and see the song title, artist, and album name clearly displayed on the large 9" touchscreen.
---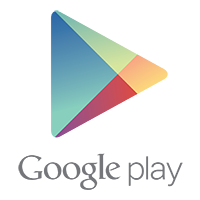 The Google Play store allows you to browse and download music, magazines, books, movies, television programs, and applications published through Google. With hundreds of thousands of apps, the Google Play store has the right ones for you. When you download apps, they're delivered directly to your device — instantly.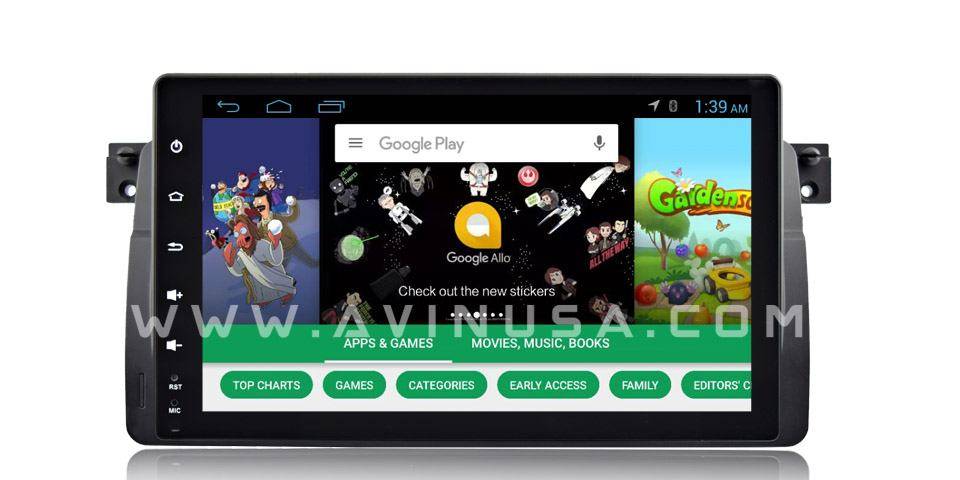 ---
Torque OBD2
See what your car is doing in realtime, get OBD fault codes, car performance, sensor data and more!
Torque is a vehicle / car performance / diagnostics tool and scanner that uses an OBD II Bluetooth adapter to connect to your OBD2 engine management / ECU
Layout your own dashboard with the widgets / gauges you want!
It can use the GPS to provide tracker logs with OBD engine logging so you can see what you were doing at any point in time
It can also show and reset a DTC / CEL / fault code like a scantool. Helps you fix your car and helps keep repair costs down!
Torque also features:
* Dyno / Dynomometer and Horsepower/HP & Torque
* Can read Transmission Temperatures (vehicle dependant)
* 0-60 speed timings - more accurate than just using plain old GPS - see how fast your car is (or truck )
* CO2 emissions readout
* Customisable dashboard & profiles
* Video your journey using the Track Recorder plugin with onscreen OBDII data overlay - a black box for your car/truck!
* Automatically send GPS tagged tweets directly to twitter (for example if you are going on a road trip)
* Massive fault code database for lookup of fault codes from different manufacturers
* Theme support (choose from different themes to change the look of your dashboard)
* Send logging information to web or email CSV/KML for analysis via excel / openoffice reader
* Heads up display / HUD mode for night time driving
* Compass (GPS Based) that won't suffer magnetic interference
* GPS Speedometer/Tracking and realtime web upload capability - see what you were doing and your engine, at a point in time
* Turbo boost feature for vehicles that support MAP and MAF sensors (VW & Golf / Audi / Seat etc supported)
* Alarms and warnings (for example if your coolant temperature goes over 120C whilst driving) with voice/speech overlay
* Graph data
* MPG
---
Steering Wheel Button Control
All AVIN headunit supports factory steering wheel buttons. Easily control your iTunes track on your iPhone, answer phone calls, or switch sources the power is at your fingers while your eyes are on the road.
---
---
Customer review
---
Installed
(Note: The UI in these installed photos are from our older Android 4.22 unit. The PX5-BE46 unit has a different UI that you can see at the top of this page.)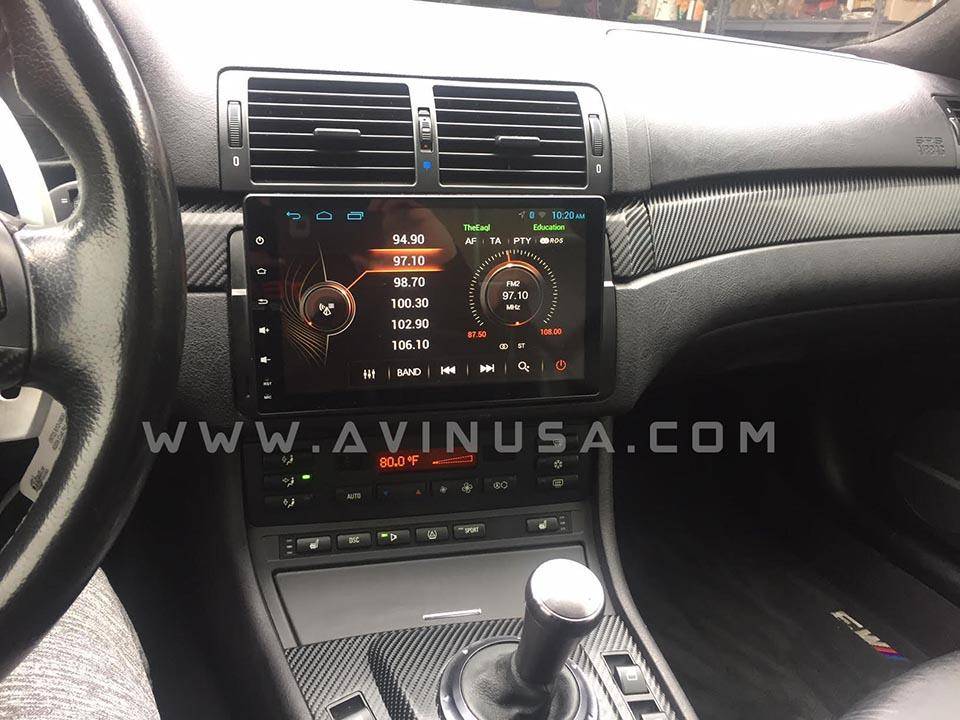 ---
BMW 3 Series - E46 - Model Years 1998-2006
If your BMW has a similar stereo deck to the above photo then the ///AVIN AC9-BE46 will be an easy replacement. You will need to relocate your Climate Controls unit further down as seen in the image on the right with the factory navigation. This will require a new HVAC relocation frame kit to hold the Climate Control unit in the new location. The genuine HVAC relocatoin frame kit can be purchased from BMW. There are two version to choose from so make sure it matches your cars equipment. HVAC - Long Bracket and HVAC - Individual Bracket
If your BMW has or had the factory installed navigation system or the "On board monitor/TV" then the ///AVIN AC9-BE46 will fit perfectly into your dashboard. BMW with these factory options will need our BMW 6M Extension Cable kit which is available for order in our store.
---
Specification
| | | |
| --- | --- | --- |
| Android OS | | 6.0 |
| CPU | | 8 core (octa) |
| RAM | | 2GB |
| ROM | | 32GB |
| Amplifier | | 4 x 48W Mosfet Quad Bridge Power Amplifier |
| RCA Audio | | 4 channels (FR, FL, Center, RR, RL) |
| Subwoofer Output | | 1 |
| USB Ports | | 3 |
| SD card slots | | 1 |
| CD / DVD Player | | NA |
| GPS Antenna | | 1 |
| WiFi Built-In | | Yes |
| Bluetooth | | Yes |
| Google Play Store | | Yes |
| DVR Camera | | Optional |
| Backup Camera | | Optional |
| Screen Resolution | | 1024 x 600 |
| Capacitive Touchscreen | | Yes |
| Multi Touchscreen | | Yes |
| Support Apple Airplay | | Yes |
| Android Mirrorlink | | Yes |
| Adjustable EQ / Fader | | Yes |
| Radio AM / FM RDS | | Yes |
| DAB+ | | Optional |
| TPMS | | Optional |